GI Landing Hero with Page Title
Gastroenterology & Hepatology at Penn State College of Medicine
The Division of Gastroenterology and Hepatology at Penn State College of Medicine is committed to not only bringing the best care to the people of central Pennsylvania, but also the best medical education for our trainees, staff and community, as well as top-tier biomedical science research, to the region.
We have robust and growing research and training programs. Our faculty and fellows have conducted leading-edge clinical, translational and basic science research in every digestive disease subspecialty, including the fields of general gastroenterology, hepatology, inflammatory bowel disease, motility, pancreaticobiliary and advanced therapeutics.
We regularly present our work at regional, national and international scientific meetings and participate in academic leadership positions throughout the country. We actively collaborate with each other as well as other members of the national and international community.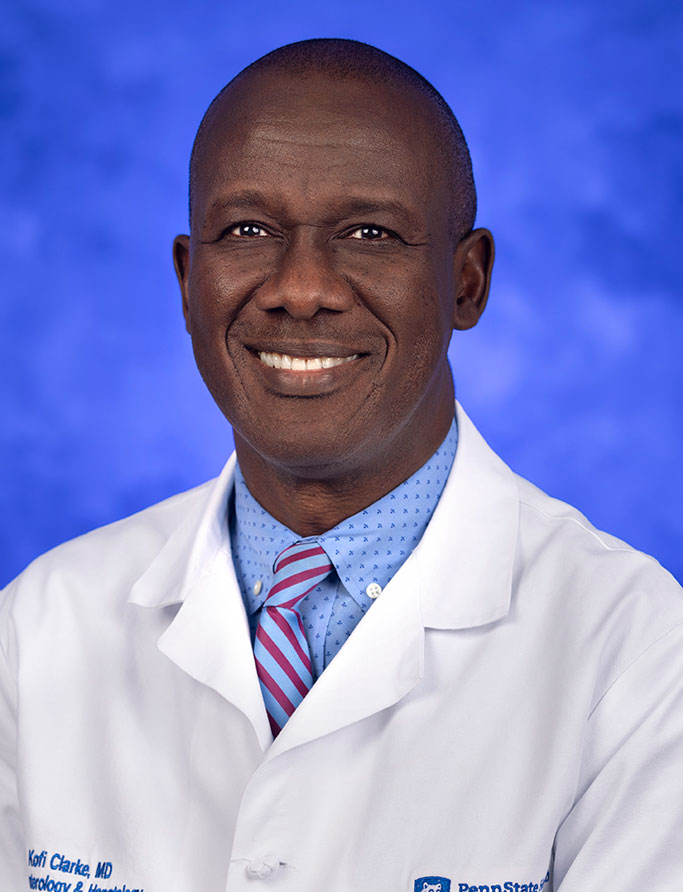 Our faculty participate in a wide variety of clinical trials while also developing innovative diagnostic and therapeutic approaches. Our research work is published in a diverse and influential list of journals within the fields of gastroenterology and hepatology. Our investigators have also secured multiple prestigious grants from the National Institutes of Health, U.S. Department of Defense, and other governmental, foundational, industry and philanthropic sources. We are proud of the work we have done and we are constantly striving to improve in each of these endeavors.
In this spirit, we welcome you to our academic overview page, which offers an overview of recent research and training opportunities that are underway and/or available to members or collaborators associated with our division.
Explore the links to learn more about our faculty, fellows and the research we are working on. Thank you for visiting!
Kofi Clarke, MD, FACP, FRCP (London), AGAF
Chief, Division of Gastroenterology and Hepatology
Professor of Medicine
Email us to find out more Call us at 717-531-8741 Follow us on Twitter
More about Gastroenterology & Hepatology @ Penn State
GI Research Triple Feature Box
GI Clinical Care Double Feature Box
GI Latest News Header Basic Content
Latest News from Gastroenterology & Hepatology
GI Upcoming Events header
Upcoming Events in Gastroenterology & Hepatology