About Penn State College of Medicine Landing Hero with Page Title
About Us Top Title and Mission Text
Preparing Leaders in Medicine and Medical Science
Penn State College of Medicine (and its academic partners, Penn State Health and Milton S. Hershey Medical Center) are committed to enhancing the quality of life through improved health, the professional preparation of those who will serve the health needs of others and the discovery of knowledge that will benefit all.
Our vision is to be a world leader in the transformation of health care and in the enhancement of health for people everywhere.
Who We Are
Penn State College of Medicine is part of an academic medical group that also includes:
Penn State Health, a multi-hospital health system serving patients and communities across 29 counties in central Pennsylvania and employing more than 16,800 people systemwide;
Penn State Health Milton S. Hershey Medical Center, a 551-bed, tertiary-care facility that serves central Pennsylvania;
Penn State Health Children's Hospitalalso in Hershey, the only Level I pediatric trauma center between Philadelphia and Pittsburgh; and
multiple other hospitals and outpatient practice sites across Berks, Centre, Cumberland, Dauphin, Lancaster, Lebanon and York counties.
Virtual Tour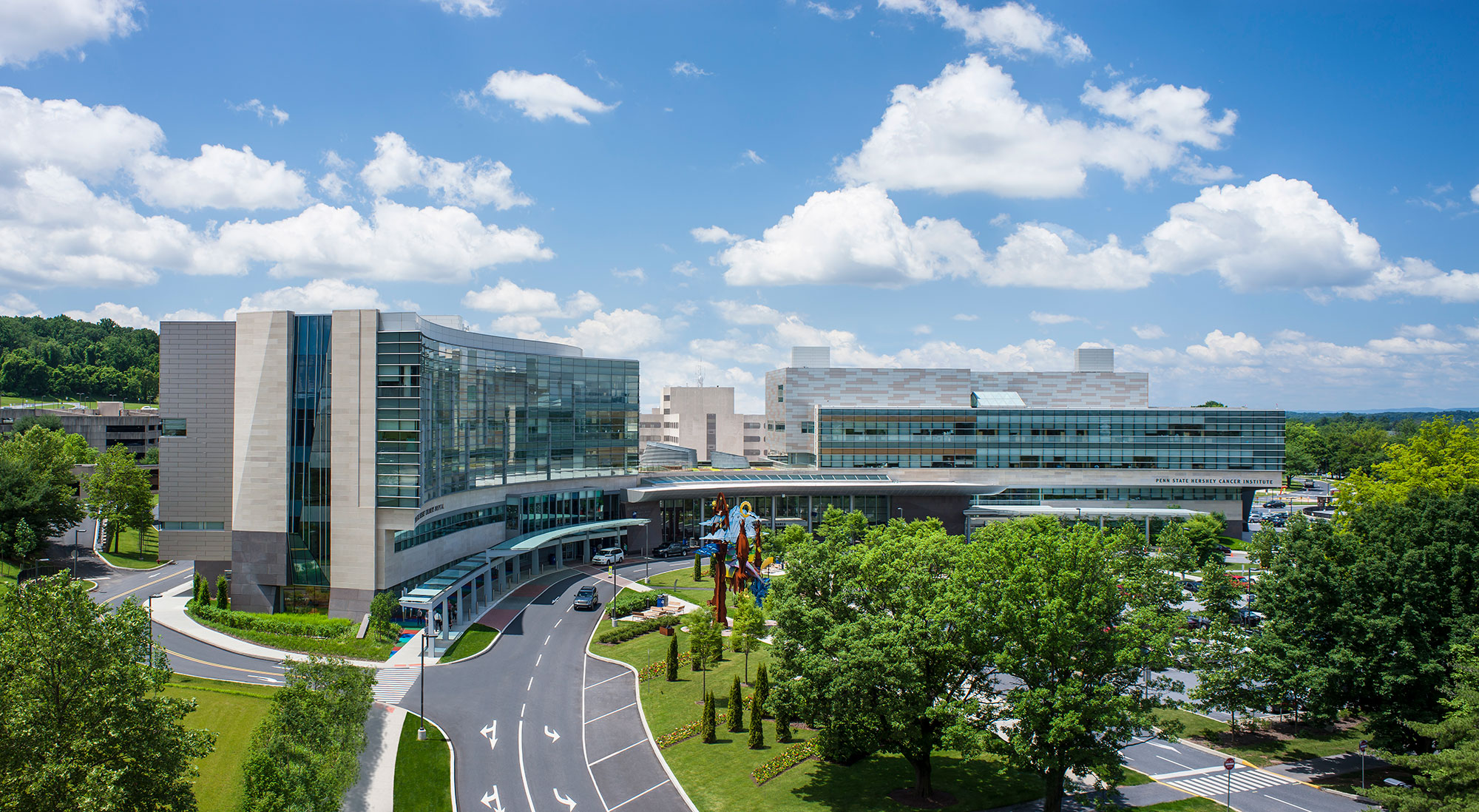 Penn State College of Medicine and Penn State Health created a virtual tour.
The 360-degree tour helps those interested in the campus explore facilities in Hershey, Pa., and also provides highlights from some of the college's and health system's other facilities.
About the Hershey Area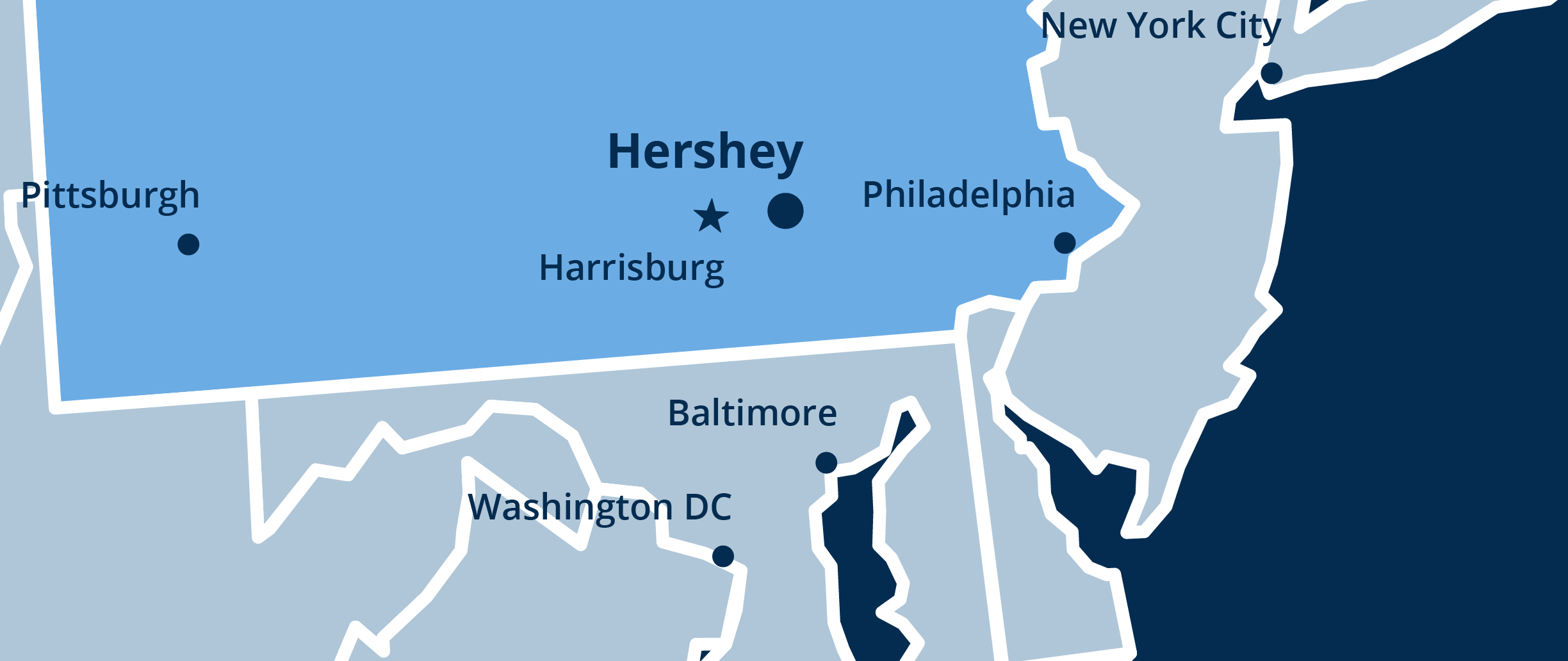 Central Pennsylvania is known for its natural beauty, low cost of living and diverse experiences.
Just like the surrounding area, Penn State College of Medicine offers an inclusive and welcoming environment toward people from all walks of life.
Learn more about what makes the greater Hershey/Harrisburg region a happy and healthy place to live.
About Virtual Tour and About the Hershey Area Basic Content H2
About College of Medicine Leadership and History Double Feature Boxes
Leadership
College of Medicine faculty are dedicated to educating, guiding, and nurturing students, postdocs, residents and fellows. The leadership team comprises experienced, forward-looking health care providers, scholars and researchers.
History
Penn State College of Medicine's story began in 1963, when the Milton S. Hershey Foundation gave $50 million to The Pennsylvania State University to establish a medical school in Hershey. It was the first medical school in the nation to have a dedicated Department of Humanities and a Department of Family and Community Medicine.
About Us Medical and Graduate Training H2 Code
Medical and Graduate Training
About Us Medical and Graduate Training Double Feature Boxes
Medical Education
The College of Medicine prepares students to become patient-centric physicians and physician assistants. The MD Program, with curriculum in both Hershey and State College, Pa., provides unique learning opportunities, such as the patient navigator program and a longitudinal humanities curriculum. The 3+ accelerated pathways incorporate three years of medical school with early entrance into residency in several specialties. The Physician Assistant Program emphasizes critical thinking skills, compassionate care and improving health in an efficient and cost-conscious manner.
About Us Our Focus H2 Code
About Us Our Focus Double Feature Boxes
Community Outreach
Outreach to the local community is key to the Penn State College of Medicine experience.
From participation in a collaborative workgroup to identify the health needs in the area, to student-run LionCare medical clinics, Penn State College of Medicine faculty, staff and students help make the greater Hershey and State College areas a better and healthier place to live and work.
Global Health
Penn State College of Medicine provides many opportunities for students interested in international health, including challenges that commonly present a greater burden to disadvantaged populations.
From immersive trips to a number of partner sites around the world to electives focusing on caring for underserved populations in the U.S. and abroad, the global health focus helps Penn State College of Medicine students make a difference in the world community.
About Us Excellence in Research Code
Research Vision
As part of an academic health center, Penn State College of Medicine provides aspiring graduate students with an unparalleled opportunity and distinctive setting to obtain their training, whether through laboratory or field research.
Research Goals
The College of Medicine is focused on:
Becoming a recognized leader in comprehensive health research, research education and translational sciences
Developing and applying artificial intelligence tools to medicine, health maintenance, research and education
Explore current research at the College of Medicine.