Welcome to the Department of Neurology at Penn State College of Medicine. As one of the premier academic departments of neurology in the commonwealth of Pennsylvania and the only one in central Pennsylvania, the department is known for its world-class patient care, education and research.
The department is in an exciting phase of growth as clinical services expand to meet the needs of our patients, the residency program increases in size, and research activity and collaborations proliferate.
The department provides state-of-the-art care for patients across a wide range of neurologic disorders, and its providers are actively engaged in clinical research while collaborating with basic scientists at Hershey and University Park.
The outstanding team of academic neurologists educates medical students at various stages of their undergraduate medical studies. They also train graduate students, postdoctoral research fellows and clinical fellows – all with the goal of developing the next generation of leaders in the field of neurology.
The department is also proud of its outreach activities to neurologists and non-neurology health care providers, as well as the community at large
Krish Sathian, MBBS, PhD
Professor and Chair
Department of Neurology
Professor, Neural and Behavioral Sciences
Professor, Psychology
Director, Penn State Neuroscience Institute
Contact us to find out more
More about Neurology @ Penn State
Radiation Oncology at Penn State College of Medicine
The Department of Radiation Oncology pledges to provide compassionate, world class cancer care to our patients of central Pennsylvania; to provide national and local service to the professional cancer community; to educate and train the next generation of physicians, medical physicists, and researchers to be at the forefront of cancer care; and to actively translate innovation and discovery from Penn State laboratories to the Penn State Cancer Institute through translational research, early stage clinical trials and cooperative group studies through the National Cancer Institute.
We are ... the Department of Radiation Oncology.
Working within the Penn State Cancer Institute, our mission is to deliver the most advanced care to our patients in Central Pennsylvania by being at the cutting edge of medicine. We do this by implementing our innovation and discovery into clinical practice, improving outcomes for patients.
Our outstanding team at Penn State bridges basic science research programs such as cancer biology, engineering, medical physics and radiation oncology. The department provides state-of-art technology including magnetic resonance guided radiotherapy (MR-LINAC; MRIdian), intensity modulated radiotherapy (IMRT) and stereotactic ablative body radiotherapy (SABR), as well as high dose rate (HDR) and low dose rate (LDR) brachytherapy programs.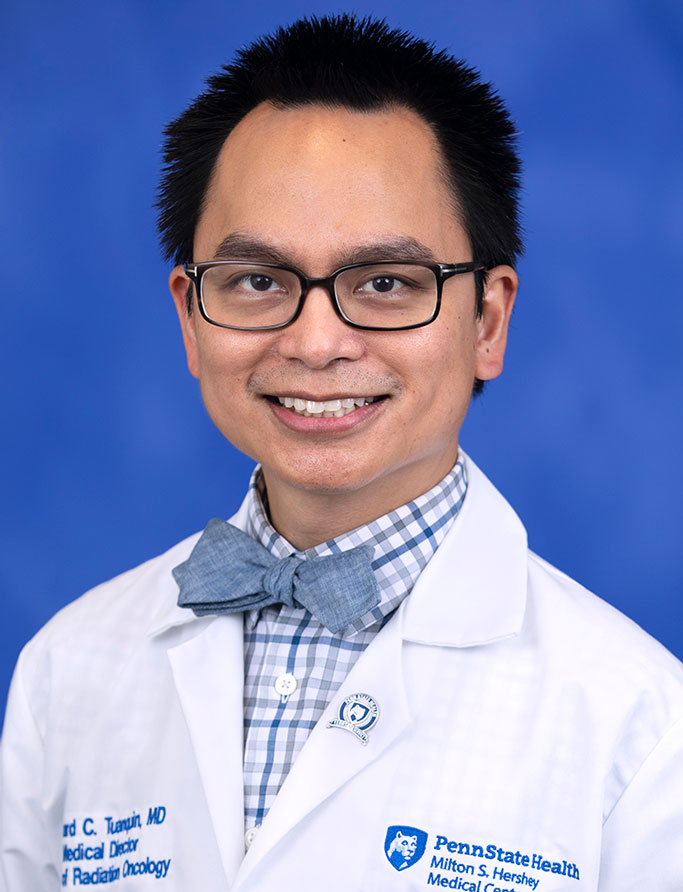 Our nationally and internationally recognized faculty are renowned for their funded research programs and clinical care, including technology development, new drug/radiation combinations, investigator initiated clinical trials and cooperative group clinical studies.
We also have outstanding training opportunities for future leaders in radiation oncology such as medical students, graduate students, post-doctoral fellows, international visiting scholars and clinical research fellows.
Our overall goal is to provide personalized radiotherapy to each patient, every day. We welcome you to our website - please explore our department, and meet our team, because We Are ... Penn State!
Leonard C. Tuanquin, MD
Assistant Professor and Interim Chair, Radiation Oncology
Penn State College of Medicine
Penn State Health Milton S. Hershey Medical Center
Email us to find out more
Or call us at 717-531-0824
More about Radiation Oncology @ Penn State
Education in Radiation Oncology
The Department of Radiation Oncology at Penn State College of Medicine offers a number of outstanding educational and training programs with nationally and internationally renowned faculty advisors. The department is affiliated with Penn State Health Milton S. Hershey Medical Center, Penn State Cancer Institute and Penn State Health Children's Hospital, and it provides the highest quality experience for education and research mentorship.
Medical student electives are available through the College of Medicine for those interested in oncology as a possible career pathway. Residents and fellows from other medical subspecialties also rotate through our department as part of their clinical training. The department has multiple funded positions for graduate students and post-doctoral fellows interested in cancer therapy. Trainees with experience in biomedical engineering or related fields, computer science, medical physics and cancer biology will be given priority.
Two- to three-year clinical research fellowships are also available for physicians and medical physicists looking for a mentored research experience to prepare for a career in academic medicine. Mentorship includes scholarship activity such as clinical trial development, manuscript preparation, and grant submissions. Applicants with a specific interest in magnetic resonance guided radiotherapy (MR-LINAC) are especially encouraged.
Research in Radiation Oncology
The research mission of the Department of Radiation Oncology at Penn State University and Penn State Cancer Institute spans innovation and discovery through translational and investigator-initiated studies and multi-center cooperative group clinical trials. The department's researchers have been at the forefront of engineering in medicine including the development of new radiopharmaceuticals and magnetic resonance guided radiotherapy with multiple patents and peer-reviewed articles related to these exciting new technologies. The department also has an incredibly strong track record of successful collaboration with industry partners on technology development through NIH Academic-to-Industry as well as STTR/SBIR mechanisms.
Furthermore, this dynamic team of clinician investigators has a history of bridging the bench to bedside with numerous phase I clinical trials exploring new drug/radiotherapy combinations and new radiotherapy delivery and fractionation schemes.
Finally, multiple investigators hold leadership roles and serve as national principal investigators at NRG Oncology and ECOG-ACRIN Cooperative Groups for multi-center prospective clinical trials through the National Cancer Institute. The department especially prides itself on mentorship of the next generation of physicians, medical physicists and engineers leading in radiation oncology.
Clinical Care in Radiation Oncology
The Department of Radiation Oncology at Penn State Cancer Institute has been an early adopter of advanced treatment services for several years and continues to stay on the cutting edge. The following treatment services are offered for the treatment of brain/spinal tumors, breast cancer, colon and rectal cancer, esophageal cancer, leukemia/lymphoma, oral, head and neck cancer, pediatric cancer, sarcoma/skin cancer, thoracic cancer, gynecologic and urologic cancers as well as noncancerous tumors and other benign conditions.
3-D Conformal Radiation Therapy (3-D CRT)
Intensity Modulated Radiation Therapy (IMRT)
Volumetric Modulated Arc Therapy (VMAT)
Stereotactic Radiosurgery (SRS) and Stereotactic Body Radiation Therapy (SBRT)
Deep Inspiration Breath Hold (DIBH) Radiation Therapy
Image Guided Radiotherapy (IGRT)
Total Body Irradiation (TBI)
High Dose Rate (HDR) Brachytherapy
Low Dose Rate (LDR) Brachytherapy
Magnetic Resonance Image Guided Radiotherapy (MR-IGRT)
Education
For Medical Students

Radiation Oncology Elective - RadElective 774A
Radiation Oncology - RadElective 774
Jobs in Radiation Oncology
Information on jobs that may be available in the Department of Radiation Oncology can be found at psu.jobs (for non-clinical positions) or careers.pennstatehealth.org (for clinical positions). All applications must be made through those sites.