Nephrology Landing Hero With Page Title
Nephrology Mission Header
Nephrology at Penn State College of Medicine
Nephrology Chief's Letter
The Division of Nephrology in the Department of Medicine at Penn State is a leader in providing quality medical care to the central Pennsylvania community and beyond, advancing care through innovative research and training tomorrow's doctors and scientists.
The division consists of an extraordinary group of clinical faculty members, basic scientists, advanced practice providers, clinical fellows and administrators. The group offers clinical care in the inpatient and outpatient settings to patients with a variety of kidney diseases.
In addition to general nephrology clinics, clinical providers see patients in specialized clinics focused on glomerulonephritis, hypertension, metabolic stone diseases, transplantation and early chronic kidney disease. The division provides all types of dialysis in approximately 10 dialysis units in the region.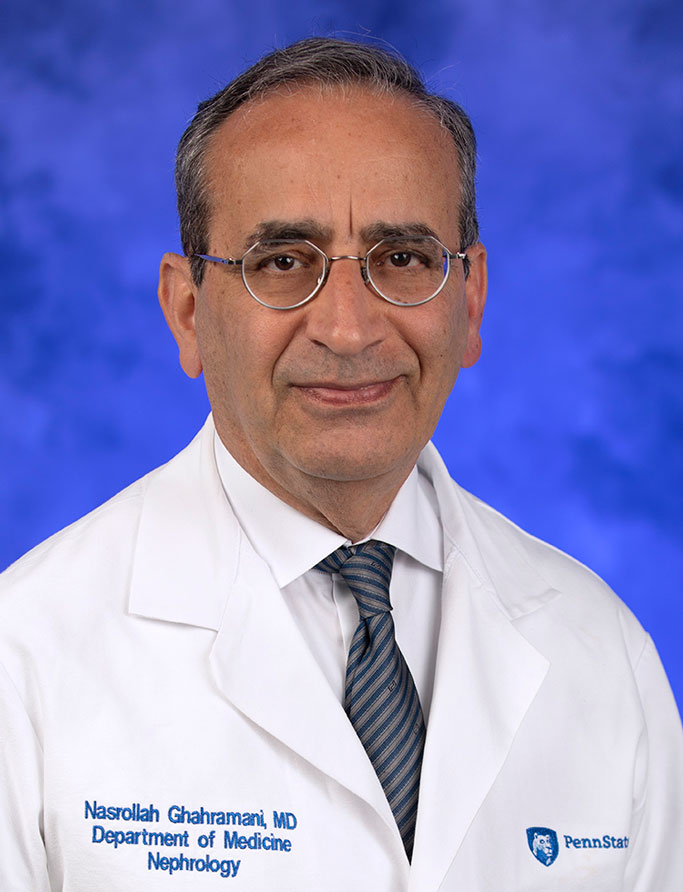 The division's education programs include undergraduate summer research programs, pre-clinical and clinical medical student courses, graduate medical training for residents and subspecialty training for nephrology fellows. The Nephrology Fellowship prepares the trainee for clinical or academic adult nephrology. The program also trains clinician-scientists to become competitive clinical researchers. Clinical training covers a full array of experiences in acute and chronic kidney diseases through inpatient consultation service, and outpatient clinics. Fellows gain expertise in hemodialysis, chronic peritoneal dialysis and continuous renal replacement therapy (CRRT and CRRT/MARS), as well evaluation and follow-up of kidney transplant recipients and donors.
The division's faculty members are recognized for their laboratory and clinical research into the causes and treatments of kidney disease, as well as various types of patient-oriented research. Current topics of specific interest include mechanisms underlying renal fibrogenesis; natural history of acute kidney injury; peer-led mentoring program for patients with chronic kidney disease and their caregivers; and geographic disparities in kidney disease management.
I am privileged to serve as chief of this exceptional division. Please do not hesitate to contact me, if you have questions or comments.
Nasrollah Ghahramani, MD, MS, FACP, FASN
Chief, Division of Nephrology
Professor of Medicine and Public Health Sciences
Interim Chair, Department of Medicine
Contact us to find out more
More about Nephrology @ Penn State
Education Research Clinical Care
Education
The Division of Nephrology seeks to foster the next generation of doctors and clinical researchers through advanced education programs that range from medical student courses to subspecialty fellowship training.
Educational Programs
Research
The division's faculty researchers are driven by a desire to not only find the root of problems such as kidney disease, but to find groundbreaking solutions that have real ramifications for patients and their families. In addition, faculty collaborate with other investigators both regionally and nationally.
Director of Nephrology Research: Kebin Hu, MD, PhD
Clinical Care
Clinicians in the Division of Nephrology are driven by a desire to enhance their patients' quality of life. The division's expansive array of clinics are devoted to patients with kidney diseases and kidney-related illnesses, including both specialized and general care and treatment options. The division is also committed to finding creative ways to improve access to care, such as through our outreach clinics.
Nephrology Latest News Header Basic Content
Latest News from Nephrology